When heart failure causes blood to back up in the veins,
it results in fluid Overload Edma in the body's tissues.
Looks like water bubbles coming from your legs
I have included a close up picture of my leg here
showing what Fluid overload Edma looks like.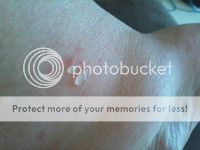 The human body is approximately 60 percent water,
which is essential to almost every life process.
The chief cause of fluid overload is heart failure,
a condition in which the heart muscle loses
its ability to pump adequately.
 
But sometimes a condition called fluid overload Edma can occur,
in which more fluid (primarily water) is going
into your body than is coming out.
 
As the heart's contractions (beats) become weaker
and less able to pump out the blood that enters the heart,
blood backs up in the veins,
causing fluid Overload Edma in the body's tissues.
It can also be a side effect of some medications.
The kidneys' ability to eliminate excess
sodium and water is also affected by heart failure,
further increasing the body's fluid congestion.
Fluid overload Edma can also occur as a result of
some other health conditions,
including kidney disease and liver disease.
Excess fluid can build up in various locations in your body,
leading to a condition called edema like...
Fuid On Your Ankles, Feet And Legs
 
Edema is swelling that usually occurs in the feet,
ankles and legs (where it's called peripheral edema),
but it also can occur in the lungs
(where it's called pulmonary edema)
and in the abdomen (where it's called ascites).
If you find this article Fluid overload Edma
interesting and Helpful retweet and comment please.
Click on this link for more information and help.
Stay tuned for more updates on How To Get Rid Of
Fluid On Your Ankles, Feet And Legs as i use myself.
And as always.. Remember to Visit your Doctor
before doing any changes to your medication..
Make it a great day!
Karen Naicker
skype  kans62

PS… A cool tool you need to build your business